Tommy And The Weeks: Powershow!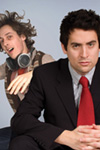 Show type: Edinburgh Fringe 2008
2007's cult hit and stars of BBC3's Comedy Shuffle return to conjure fresh delights for lucky minds. Eighties power-suited lothario versus mittens-wearing indie kid. Joyous hybrid of sketches, stand-up, music and wonder. You love Powershow!
Comedians
Reviews
Original Review:
Ed Weeks and Tom Bell employ a fresh approach to their sketches, helping them rise above some of the more traditional offerings this festival. But ultimately the burden of their ambition gets the better of them.
There is a definite sitcom vibe to this show, which almost feels like a pitch for their own TV series. This is not necessarily a bad thing, as it means very slick performances and some clever writing from Weeks and Bell, who both seem destined for the small screen.
The set-up is one Weeks has employed in previous ventures, with both comedians adopting characterised versions of themselves; Bell as the sensitive victim to Weeks's arrogant and slightly dim bully. These characters lead a narrative that's interspersed with surreal asides and off-the-wall sketches.
The show starts with huge promise, some superb writing rewarded with huge laughs, but the standard slips when the pair become embroiled in the task f advancing their uniquely challenging storyline: that the show itself has become sentient, with a conscience of its own.
Eventually it turns evil - so the duo are left with no option to try to kill their own show. Unfortunately, killing the show is exactly what this convoluted plot almost achieves.
Unlike their more straightforward sketches, the story cannot hold up under the weight of its own surreal concept. The writing becomes unconfident and the plot so bizarre that it becomes impossible to retain an interest in it.
This is a real disappointment as the sketches and the characters are genuinely funny, but the storyline just can't sustain its power through the hour.
Reviewed by: Corry Shaw
Comments
Older Comments
Show Dates