Seven Sins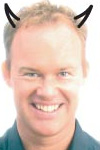 Show type: Edinburgh Fringe 2008
Writer/comedian James Judd's award-winning show about his life of envy, greed, gluttony, wrath, pride, lust and sloth. Soap opera melodramas , Vegas dives and Beijing whorehouses.
Comedians
Reviews
Original Review:
This show is enormous fun, especially if you like your comedy slick, camp and joyously performed.  
Most comics are the shameless stars of their own life story, and James Judd embraces this opportunity to hog the limelight with infectious glee. With minimal, well-chosen set dressing and a couple of lighting effects, he works hard to tell his story.  
Judd isn't a stand-up, but a hugely entertaining raconteur and comic actor. It's witty, sophisticated cocktail-hour stuff. Taking us on a non- linear journey from childhood trauma (not being a popular fifth grader and the lengths he went to challenge the saccharine supremacy of some beastly girl), law school, first postgrad job, being singled out for special attention at the opera (which was the catalyst for writing  the show), technical journalism and more.
His ability to accidentally end up centre stage in so many jobs by his extravagant ineptitude makes a virtue out of failure, although you might argue that that it's some kind of success to crash and burn in high-achieving environments; and he's plainly no slouch in the world of entertainment.  
He sends himself up something rotten, with his swooping and mellifluous voice, wide-eyed enthusiasm and finely tuned performance.  This is a properly put-together show, and he doesn't fake that we're all here for a matey chat he plays the room like Judy Garland at the London Palladium.  You'd have to have a heart of stone not to be swept along in all the fabulousness.
Reviewed by:Julia Chamberlain

Date of review: Aug 2008
Comments
Show Dates