Karl Spain: Life Is Sweet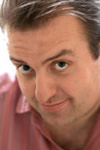 Show type: Edinburgh Fringe 2008
Homer Simpson is diabetic, so is Halle Berry. Inspector Morse died from complications brought on by neglecting his diabetes. Gary Mabbut played for England as a diabetic and he was type one. Surely Karl Spain, who just last year discovered he too was diabetic, can be funny for sixty minutes?...
Comedians
Reviews
Original Review:
Karl Spain recently developed diabetes. More recently, he discovered he had diabetes. And even more recently he has worked out exactly what diabetes is.
This is his story of how he and his friends and family have coped with the news. It sounds downbeat, and certainly at times it is, but Spain has managed to find the humour in the situation.
Looking back at a life of copious Jaffa cakes and laughing at those worse of than himself, Spain reckons that his condition may be karmic payback. Yet he also believes that becoming ill may have been the best thing to ever happen to him, allowing him to appreciate life in a way he never did before. He is now truly grateful for the smallest treat or indulgence. I sometimes wonder if this show is one of them.
There are a few occasions where anecdotes sound more like diary entries than material, and the story is told with such a light, conversational tone that it feels like you are sitting in his front room just listening to him ramble about his afflictions.
It is not a dull story, nor is it laugh free, as there are several brilliantly insightful tales about his stay in hospital. The revenge of the nurse who he had picked on when she was in a comedy club audience a year before is a particular highlight.
Spain is a laid-back performer but nerves do seem to affect him at times, as he backtracks or repeats himself, much as one may do retelling a long, complicated story to their mates down the pub. This may well just be his style but it's not to my taste, laughs take longer to materialise and there are too many irrelevant details thrown in that detract from the crux of the story.
Irrelevancies and nerves aside Spain obviously has a talent for comedy, ensuring he does deliver the laughs after lulls, effectively lifting the atmosphere that has dipped with a witty aside or a barbed comment to the audience. But I can't help thinking he is making it harder on himself by allowing the lulls to develop in the first place.
Reviewed by: Corry Shaw
Comments
Show Dates
ADVERTISEMENTS
This comic also appears in: