John Smith Free In Sick And Twisted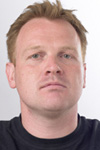 Show type: Edinburgh Fringe 2008
Geordie comedian and national competition finalist John Smith performs his debut solo show. A laughter-filled hour of original, dark, sick jokes and anecdotes.
Comedians
Reviews
Original Review:
With John Smith, you pretty much get two shows for the price of one – but unfortunately, neither really works; and they certainly don't sit together will.
The first, you suspect, is his club set; 20 minutes or so of brutally hard, bad-taste material as sick and bitter as the title suggests. There's no easy way into it: his first gag is about abortion, and things get worse before they get better.
To be fair, the punchlines are just as likely to be puns rather than anything intrinsically evil, but the very subject matter will be beyond the pale for many. There are some notable routines in here, such as him improvising a testicle transplant, but the bleak mood is oppressive.
The friendly Gateshead lad has a fixed way of delivering this material, using a short set-up with rising inflection, and punchline bringing it down again. It's efficient and rhythmical but not an altogether natural tone of voice.
More annoying is his habit of introducing every subject with a question to the audience, a 'way-hey!' and a raised fist, trying blatantly to drum up some enthusiasm. No one, tonight at least, joined in, making him look all the more exposed. Especially when he kepts trying the trick, when it's demonstrably not working.
This sort of laddish bonhomie and the harsh nature of his material sets a certain mood, which means the gear change to the true tale of his dad dying is grating – to such an extent that the audience aren't sure if it's even true.
This section heralds the start of show number two, which is a collection of more personal anecdotes from his life. Many of these revolve around practical jokes played on or by his single-syllable rhyming mates Kev and Trev, and he tells them reasonably well, even if the payoffs aren't all that rewarding.
He hypes his final punchline as if it's some huge, hilarious pay-off; so when it isn't we can't help but feel cheated.
The first half of his show presumably plays reasonably well to the rowdier pubs and clubs of the nation, but seems out-of-place in an Edinburgh basement at 6pm; while the second-half his its entertaining moments, but is too ill-formed to properly soar.
Smith has a certain stage presence and a decent comic sensibility, but this endeavour hasn't been thought out enough to make it a coherent show worthy of acclaim.
Reviewed by: Steve Bennett
Comments
Older Comments
Show Dates