Isabel Fay: Don't Let a Gift Horse In The House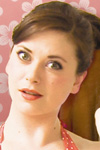 Show type: Edinburgh Fringe 2008
Joyfully capricious character comedy from the irrepressable Isabel Fay – butter wouldn't melt in her mouse. She'll pluck at your heartstrings then drop a spider down your pants.
Comedians
Reviews
Original Review:
Isabel Fay is clearly an accomplished comic actor, skilfully bringing a credibility to her collection of rather unlikely caricatures, even over the extended scenes they must carry. But having only four creations over the course of an hour also means the script for each much continually surprise, which proves more of a challenge.
First up is the spider-handler hosting a workshop on how to conquer arachnophobia, looking a right sight since she's dressed as one of the eight-legged fiends herself, with extra comedy-mascot legs, and a bunch of ping-pong ball eyes.
She turns out to have the most obvious affliction for doing the job: a morbid aversion to spiders; but Fay's brilliant recreation of clammy anxiety and jumpy nervousness makes for an edgily entertaining 15 minutes despite the simple set-up
The dotty literary madam, forever at a loss for words and becoming increasingly frustrated at her own ineptitude is likewise a maniacally engaging character, but the only real gags are the punny titles for hybrid novels she throws out into the ether.
Kiki, the former child star now grown up, potentially has more scope; a wash-up with failing marriage and addiction troubles behind, her desperately trying to patch up her career and her relationship. Her upbeat lack of self-awareness is cheesy, though the technique of a video link-up with her partner (played by Richard Glover) in LA is rather a clunky device to get the jokes across.
Finally, we meet Miss Hull and Humberside 2007, an archetypal dumb amateur model giving a naïve talk to sixth-formers about how the abstract concept of 'beauty' could be a career choice. The speech is rich with appealing malapropisms, and carefully stilted gesticulations.
The mature, long-form sketches give Fay the chance to show off her abilities to fully inhabit the characters, making them so much more than the broad-brushed cartoons they could otherwise be. As an acting calling-card, you couldn't want for a better demonstration of controlled energy and supremely likeable performances.
But whether the character quirks can sustain the scenes is a moot point, despite regular flourishes in writing. It's certainly a confident, impressive show, if not quite a brilliant one.
Reviewed by Steve Bennett
Comments
Older Comments
Show Dates
ADVERTISEMENTS
This comic also appears in: