Ian Stone: Where's the Down?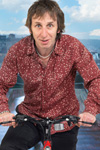 Show type: Edinburgh Fringe 2008
Life an uphill struggle? You're not alone. But there is a funny side. Come hear Ian moan about it.
Comedians
Reviews
Original Review:
Ian Stone has a smile that would fill the room, and a genial welcome that eases everyone into their unusually comfy chairs. He is a man who genuinely seems to want you to a have a nice time and is confident he can help.
Stone is not here to spill his little cup of spite and bile. His cup contains a strong masala tea, soothing but spiced. He is a reassuring presence, his material is solid and his vast experience makes for a delivery so capable that you can just lean back and relax into rhythmic laughter.
The show, inspired by a rambling holiday in the Peak District, is a kindly attempt to find the downward slope, the easy walk home. It takes us via a disconcerting (though pragmatic) approach to sewage disposal in rural India, and a very literal response to a Scientologist's request for a definition of the concept of unconscious mind.
The 'Nazi' pope gets a mention or two, and there is a dig at Swiss neutrality but this is not a political show. It's an opportunity to have a good laugh that we all deserved on account of life being shit. Not a startling revelation on a rainy night in Edinburgh toon, but a comforting statement nevertheless.
This is not a controversial set, but is more than just nice Trot down to his comfy room and chill with a skillful comedian. He'll warm your cockles.
Reviewed by: Chloe Smith
Comments
Show Dates
ADVERTISEMENTS
This comic also appears in: