Dermot McMorrow: 13 Black Cats in the Shape of a Magpie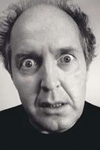 Show type: Edinburgh Fringe 2008
What would you do if cornered in an alleyway by algebraic equations? What would find if you stopped to look under some fresh road-kill? Of course you know speed-dating, but what in the world is magic-mushroom dating? Only Dermot McMorrow knows the answers.
Comedians
Reviews
Original Review:
It's always difficult to review a stand-up when, save for the lighting tech and one of the comic's friends, the critic is the only member of the audience.
Still, Sligo comic Dermot McMorrow put a brave face on the situation, fixed his blue-eyed gaze into the middle-distance and ploughed on regardless, only tentatively making reference to the socially uncomfortable situation.
As it transpires, he seems to quite enjoy awkwardness, deliberately – and accidentally – creating that mood. Plenty of lighter moments come as he breaks down the over-formality of the rest of his set to make some off-the-cuff comment or another, and maybe a bigger audience would allow him to be more playful, less self-conscious.
After a bit of a preamble, the show gets off to a strong start, with a 'poem' that is little more than a collection of pithy, offbeat one-liners. It's solid stuff, employing quirky wordplay and off-the-wall thinking to create very nice jokes indeed.
There are, as it turns out, quite a lot of gags in McMorrow's hour. But absolutely no quality control. The best seem bunched up at the start, although other great lines pop up now and then, but alongside a morass of painfully contrived puns, old and familiar lines, and half-formed ideas that wouldn't pass the scrutiny of most club audiences.
You might wonder why they still remain in the show, but I suspect the answer is the usual Fringe trap: a comic with a successful short set needing every scrap of material, good or bad, he's every written to bulk up an hour.
He inserts strange little breakers to demark the show into various sections, introducing himself on and off stage as 'The McMorrow'. It's perhaps a way of breaking the hour down into more manageable, more familiar ten-minute chunks.
Delivery is sort of dazed, but still friendly. Many comics go for the 'chat down the pub' approach. McMorrow goes for the 'chat down the pub after a few pints' approach. Slightly garbled, thinking all sorts of odd things might be funny, but only occasionally being witty through statistical probability if nothing else. If he says enough stuff, some of it might land a laugh.
There's a surreal edge to a lot of it, or at least an air of strangeness, which helps sometimes, hinders at others. It all adds to the feeling of fragmented material that isn't cohering properly into a show. One set piece involves suicide notes left by roadkill, which is an initially nice idea but, like so much, outstays its welcome.
He has the demeanour, look and bonkers outlook of a minor priest in Father Ted, but can't quite turn that to his advantage and create a consistently funny show.
Reviewed by: Steve Bennett
Comments
Show Dates