David Bloustien: Beastly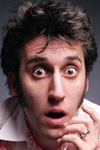 Show type: Edinburgh Fringe 2008
Award-winning Australian comedy writer (The Glass House, Good News Week) makes his Edinburgh debut. A menagerie á trois about Africa, religion and the charity industry
Comedians
Reviews
Original Review:
Dave Bloustien's been to Africa, and bought his holiday snaps along to show us.
But, don't worry, this isn't just a bunch of flyweight 'what I did in my holidays' anecdotes.
He went because his wife was working as a grief counsellor in an African orphanage.
And, no, neither is it a doom-laden polemic on the tragic state of this exploited, war-ravaged continent.
Beastly does contain elements of both these scenarios, but it's very lightly done. There are first-hand stories, but only because they can be shaped into gags, and there is more than a touch of politics, but no drum-beating. You do get the message, but it's all the more potent as it's not rammed down your throat.
Bloustien's an intelligent and funny guy, laid-back and engaging; but his real strength is in the writing. Here's a comic who knows how to craft a strong line onto any topic – and with the smarts to ensure he's covering ground few others have trodden.
So we get a bit about the wildlife he encountered, or the Johannesburg mafia. Bleeding-heart celebrity appeals you might have expected him to mention, but you'll also be genuinely informed about Live Aid (which will probably depress you) and the identity of the world's biggest charity (which is sure too). And all is presented with a keen cynicism.
The laid-back stance does occasionally slide into ill-preparedness, and the show can still feel a little rough around the edges – though the use of a xylophone to distinguish fact from fiction and to mark new chapters in his stories, gives proceedings a much-needed form.
Other than that, Beastly is very much an episodic affair, with several distinct routines rather than one overarching message or flow, and the show might seem more substantial with a more formal structure.
But the individual routines are sharp, interesting and witty; the obvious product of a bright comedy brain.
Reviewed by: Steve Bennett
Adelaide, March 2007

Comments
Show Dates