Des Bishop: Tongues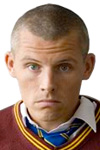 Show type: Edinburgh Fringe 2008
A huge star in Ireland, Irish-American Des Bishop is returning to Edinburgh for the first time In four years with Tongues, a personal journey through his experiences with alcohol, testicular cancer and more recent loss of faith. (Other topics may be covered.)
Comedians
Reviews
Original Review:
Despite painstakingly explaining events and back-stories to the whole of the audience, the top of Des Bishop's show feels a little bewildering to anyone who's not Irish, what with his jesting about it being considerably cheaper to see him in Edinburgh than Ireland, jokes about the latecomers from Limerick and briefly speaking Irish.
However events soon settle down and Bishop explains to those that don't know him already why he's Irish with an American accent. Many Yanks lay claim to being of Irish descent but Bishop's family are not only from Ireland, he's lived there since he was a teenager.
Much of Bishop's show is concerned with identity. Faced with a 16-year-old Irish girl exclaiming: 'But you know us so well!' the 32-year-old responds with: 'Perhaps that's because I've been here two years longer than you.'
But not all life in Ireland is viewed with a rosy hue. The Irish bitterness is compared to the Americans' 'have a nice day' attitude, and he reveals he used to attend St Peter's College infamous for Father Donal Collins, nicknamed Slinky by the kids because of his paedophile ways.
But perhaps the highlight of the night comes not from the cultural material but from his frank account of having testicular cancer in his mid-twenties. Of how it wasn't the cancer that affected him the most but the loss of one testicle. His rant on why he would want it replaced with a silicone implant is carefully balanced between poignancy and humour.
Reviewed by: Marissa Burgess
Comments
Show Dates