Alexis Dubus: A R*ddy Brief History Of Swearing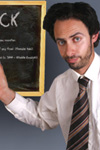 Show type: Edinburgh Fringe 2008
It's big, it's clever, it's Alexis Dubus' debut solo show at the Edinburgh Fringe.
If you're looking for some swearing at this year's Edinburgh Festival, you shouldn't have too much trouble. Here's another one, just with a bit more detail.
Alexis Dubus: A R#ddy Brief History Of Swearing is one man's attempt to discover why a handful of words in the English language still have the power to shock, offend and amuse in equal measure.

Comedians
Reviews
Original Review:
Swearing: it is big and it is clever, and in the capable hands of the affable Alexis Dubus it is breezily funny, too.
This is a sort of live profanisaurus; an upbeat guide to all things expletive, ranging from etymology to practical examples of their uses in everything from Shakespeare to Billy Connolly. It's a very well-researched piece, packed-full of quirky trivia about your favourite four-letter words, making it as informative as it is funny.
The cunning linguist runs down a list of the top 25 most offensive swearwords, as determined by the BBC, and gives us hilarious examples of foreign curses and their bizarre literal translations. And you'll never call a jellyfish a jellyfish once you learn what they're called in Welsh.
Dubus is a energetic guide, and we crash through a huge amount of gags and information in the hour. He keeps the tone light and cheerful – or as light as a man constantly swearing can ever be – and the hour whips by.
Frankly, if you don't enjoy this show, you're a fucking cocksucker.
Reviewed by: Steve Bennett
Comments
Older Comments
Show Dates