Sh*tty Deal Puppet Theatre Company's Complete History of Oppressed People Everywhere!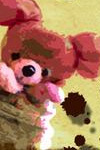 Show type: Edinburgh Fringe 2007
Feeling disenfranchised? Puppets with Schadenfreude present a magical voyage of human misery. Oppression was never this fun! Strong language, puppet violence, Barbie nudity and shitloads of chocolate syrup.
Comedians
Reviews
Original Review:
You've not had the full Fringe experience until you've seen grown adults messing about with puppets. And a dishevelled bunch they are (the puppets, that is), sourced from all manner of junk shops, thrift stalls and parents' attics no doubt; they look like the Muppets, had they turned to gin.
Between the lot of them, from Action Man to Mr Potato Head, this collection of kids' toys, hand puppets and four pairs of human arms recreates all the oppressive regimes throughout history, ever. Narrator Mr Doper (who appears to be a clown bath mitt of some kind) relates everything from the first domestic abuse case of Adam and Eve to the colonial raping of the world – as represented by a rabbit's plundering of sweetie necklaces.
Then there's the persecution of the Jews throughout history where the Jews are depicted by a bunch of Barbies on a bus, God is a green fuzzy creature that burps a lot and the Nazis are potatoes.
The writing is more wryly funny than tack sharp but the daft puppetry more than makes up for it, though there is an intelligently thought out and chillingly funny 'advert' for ethnic cleansing. It's an anarchic, frenetic and gloriously silly show that it's well worth making time to see.
Reviewed by: Marissa Burgess
Comments
Show Dates