Rebus McTaggart: CrimeWarrior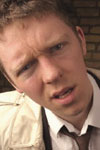 Show type: Edinburgh Fringe 2007
The List's 2006 Best Breakthrough Act, Richard Thomson brings you more McTaggart. Ecclefechan's sole defender of the law ineptly tackles a grisly new case.
Comedians
Reviews
Original Review:
He's a competent actor, but Richard Thomson really needs to work on his script.
In this tediously predictable character comedy, featuring Ecclefechan's lecherous and pompous 'top cop', Thomson pulls out some of the most tired material going, such as donning drag as a female witness in a pointless and uninspired Basic Instinct-style interview scene.
Were that not pantomime enough, he then gets his bottom out.
We see Rebus conducting an amateur autopsy like he's making love to the cadaver – it's the 'gross-out' style the Farrelly brothers milked dry years ago. These farcical scenes are interspersed with lame attempts at satire, giving the show a schizophrenic lack of conviction.
In other areas, he comes up with some reasonable jokes and the script just needs pruning. A stakeout scene in which Thomson sits on stage stonily eating his way through a range of foods as he waits for some action would be great were it about four minutes shorter. As it is, the audience is made to get the joke and continue getting it until it loses all its original appeal.
Likewise, a brilliant, inventive police chase, in which increasingly fantastical weapons and vehicles are created using only sound effects and mime, could be improved only by being slightly more succinct.
Thomson has confidence, charm and acting ability and there was no shortage of applause when the show ended. But unless he improves his writing, he will never be more than mediocre.
Reviewed by: Nione Meakin
Comments
Older Comments
Show Dates