Hamell On Trial: The Terrorism (Of Everyday Life)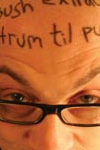 Show type: Edinburgh Fringe 2007
Edinburgh debut for the cult satirical American comic and singer-songwriter
Comedians
Reviews
Original Review:
Hamell is a throwback to comedy's pre-corporate days, when stand-up was part of the underground counter-culture, not a shortcut to a toilet roll voiceover.
He's worked in a crack bar – 'if Night Of The Living Dead had a Cheers' - to subsidise his art and has hung out with dealers, criminals and, worse yet, musicians. His comedy carries that same seedy, earthy, uncompromising attitude of the angry rock star, perfectly suited to the Underbelly's dank underground setting
'For every John Lennon, there's a Richard Pryor, for every Kurt Cobain there's a Bill Hicks,' that's his philosophy, and one he lives by.
Hamell doesn't strictly class himself as a comedian, though he can be brilliant funny as he recounts his various anecdotes. But he's just as excellent a storyteller and musician, angrily thrashing his 1937 Fender guitar through a serious of crashing, angry tracks.
He looks slightly intimidating, too, a weather-beaten face testament to the wisdom of 53 years on the tough planet. Plus he adds to that menacing attitude with demonic eyebrows and goatie beard, shaved skull and frightening grimace. But, confounding expectations, he celebrates humanity - and can even be jaunty if needs be. He's got a very jolly little tune about smoking crack, for instance.
The music and the message are the priorities, getting a laugh comes second to pounding out a great rock tune; but it's still wonderfully funny, even more so because any jokes are firmly grounded in a greater context and an unwavering, no-nonsense stance.
His anecdotes can be brilliant, too – most notably his yarn about smoking the ashes of a dead friend. It could have been played for pure slapstick, but Hamell injects it with poignancy and an unexpected payoff. It really is funnier because it's true.
If Hamell's on trial, the only thing he's guilty of is kicking ass.
Reviewed by: Steve Bennett

Comments
Older Comments
Show Dates