Greg Fleet with Mick Moriarty in Fleetwood Mick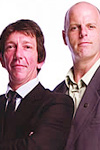 Show type: Edinburgh Fringe 2007
Comedy legend Greg Fleet is back! This time he's teaming up with Mick Moriarty to present an hilarious new show that includes Fleety's world famous standup, a bit of music and the boys' take on the news (with less emphasis on truth than other news services..)
Comedians
Reviews
Original Review:
It's strange the things that can disrupt the enjoyment of a gig. At this one, a bunch of lively comedians and friends, presumably already familiar with the work of both these well-established Australian comics, laugh too early and too raucously at every line. Bursts of what seems almost like canned guffaws emanating from the very back of this sparsely populated room disrupt the energy and rhythm of the show, no matter how well-meaning the support.
You can see why these two have such support among their peers. Greg Fleet is a smart operator, with skilful wordplay and a knack of spinning a yarn; while Mick Moriarty is a multitalented musician, injecting some rock and roll spirit into Fleety's dry wit.
We start, and end, with a noirish private eye spoof, narrated almost entirely with cunningly contrived puns and lent class by Moriarty's double bass. Then there's a surreal section, the usual nonsense but given class by being delivered by a man with a smart suit and a measured pace, rather than the usual manic stream-of-consciousness; a musical comedy track or two, such as I'm More Australian Than Him or Emphysema Girl; and a couple of chunks of more straightforward stand-up, one about Fleety's run-in with a steroid-filled bodybuilder high on crystal meth who called him a 'cockramp', whatever that means.
These two festival veterans certainly offer something for everybody, and beautiful lines are peppered liberally throughout – and a few duff ones, too, it has to be said, though they seem to be aware of that, and try to front it out with confidence.
Yet the show lacks both spirit and cohesion. It often feels like Fleet and Moriarty are simply going through the motions, offering a collection of well-practised pieces without much rhyme or reason, producing a strangely low-energy offering.
If you've never Fleet, you certainly should, as he's one of Australia's classiest comedians and deserves a bigger audience than he's getting at the Gilded Balloon's Nightclub. But there are better showcases for his undeniable talent.
Reviewed by: Steve Bennett
Comments
Older Comments
Show Dates