Danielle Ward: Psister Psycho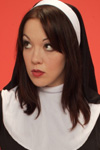 Show type: Edinburgh Fringe 2007
A new musical from the award-winning writer and stand-up Danielle Ward. On her 21st birthday, Martha Meadows is told she must devote her life to the church. However, once inside the convent she finds herself doing battle with the terrifying Psister Psycho, who plans to destroy the world. An unconventional love story of nuns, guns and robots from the winner of Best Comedy Newcomer at Time Out's Critics' Choice Award.
Nominated for a 2008 Chortle award for best show
Comedians
Reviews
Original Review:
Psister Psycho is an everyday tale of robot killer nuns, typical of the sort of camp, schlocky B-movie spoof that you so often find at the Fringe.
What sets it apart from every other Rocky Horror wannabe, however, is that it is a product of the deliciously warped mind of Danielle Ward, and delivered by a cast skilled in quirky, exaggerated acting.
Margaret Caborn-Smith, half of the Congress Of Oddities, plays the novice who uncovers the fiendish plot of world obliteration fairly straight; the Penny Spubb's duo of Anna Crilly and Katy Wix are the evil henchnuns of Ward's vampy gun-toting Mother-Superior, hell-bent on utter destruction; while Colin Hoult from Colin & Fergus and musician Martin White play the token men.
The dark script has a suitably demented disorientating feel: full of surreal, postmodern asides or daft non sequiteurs. Crilly, especially, relishes the chance to ham it up, playing her villainous role as if some small-time London gangster, but purposely letting her accent and her speech patterns wander wildly to add to the bizarre atmosphere. Pronunciations and emphasis hilariously often bear only a passing resemblance to generally recognised English.
She, and her more easily led sidekick (Wix) are given some gorgeous lines to deliver, too, and very often in wildly bad taste. Ward rightly believes that if you're going down this route you need to do it with unfettered gusto, so whether it's racist grandmas, suicidal angst or fatal rape by a sea monster, it'll probably feature in a gloriously over-the-top song and dance number. The tunes are pretty damn good, too.
The show loses its way a bit in the middle, getting bogged down in the exposition of what is clearly a fairly perfunctory plot, and the cast occasionally wobble on the tightrope of performing with deliberate inelegance without falling into the pit of amateurish arsing around. But the silliness, energy and melodrama are emphatically restored before the hour hurtles towards its exciting climax.
But, unusually for such a zesty romp, the sharpness of the script matches the exuberance of the performance; making for a uniquely pleasurable ride that's in turns silly, sick, surreal or just plain showbiz glitzy. Great fun.
Reviewed by: Steve Bennett
Date of review: Aug 2007
Comments
Show Dates