doktor cocacolamcdonalds explains all!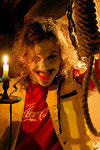 Show type: Edinburgh Fringe 2006
Genius or insane? Gene Hackman Obsessed Protest singer! The

end of the world told in musical form! As seen singing in his

underpants on Jimmy Carr's latest DVD
Comedians
Reviews
Original Review:
Doktor CocaColaMcDonalds is simply wonderful, with a level of full-throttle anarchic brilliance to which most acts can only distantly aspire. The ghost of tragically forgotten Frank Zappa 'find' Wild Man Fischer is alive and well in this act, which truly captures the spirit of the Fringe.
The good Doktor, a combination of Beck, Syd Barrett, Chris Lynam and a serious acid casualty at an early Glastonbury Festival, appeared white-faced and naked throughout, except for green swimming trunks bearing a red floral pattern, a pair of black socks in different shades and one or two ties around his neck.
He was accompanied by various musical instruments including a Casio keyboard, a Yamaha keyboard and a Nintendo GameBoy, this last one providing superb backing to a song titled Why Did I Did I Think Of That?
He is a basically good musical act who has written 17 songs about Gene Hackman alone, including Gene Hackman Is Better Than PacMan. But his talents are not tied to the French Connection star alone, and others include: Which Film Do You Adore? - Rocky One, Rocky Two, Rocky Three, Rocky Four?, Don't Fuck With The BBC, Cos They Own Radio and TV and Feed Celebrities To The Third World, a song so good I would buy it.
The unexpected treat with these songs is that they are not just one-gag titles but are full songs and musically strong at that.
This is not so much comedy as a fully-fledged one-man event which escaped through a wormhole from 1967. Doktor CocaColaMcDonalds is not just in his own class, but on his own planet and it was a privilege to visit it for an hour.
John Fleming
Comments
Older Comments
Show Dates