DJ Danny: Music Therapy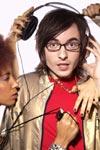 Show type: Edinburgh Fringe 2006
Teacher by day, DJ by night, DJ Danny is back with a brand new show.
Last year Danny desperately wanted to quit his job and become a superstar DJ, this year he's realised that he needs to think even bigger ­ his aim is nothing less than to save the world through the power of music. Of course, hopefully, he'll become a superstar DJ in the process.
Music Therapy is an Edinburgh show that promises to change your life, bring about world peace, and prove once and for all that James Blunt is the earthly manifestation of evil.
Comedians
Reviews
Original Review:
Well it's an ambitious goal, saving the world through the power of music but I think DJ Danny might just do it. It certainly won't be for want of energy. DJ Danny and his staid colleague Mr Walker (Head of Music and RE) break away from the day jobs and create a glow of musical wellbeing at the Pleasance. Danny Robins starts in his geeky teacher persona and is transformed into the most sweet natured and concerned DJ you're likely to encounter.
The show depends on audience participation ­ in the least off-putting manner, starting with questionnaires as you queue to get in and including singing, dancing, arm waving and call and response. An aural montage of sad songs and pictures starts us all on a level playing field and the healing begins.
It really is extraordinary how a microphone and a positive manner can incite an audience to be on their feet and shaking their bootys and giggling like loons as part of the music therapy. We are all in Teacher Danny's pastoral care for the duration of the show.
I have to admire his courage in handing so much power to the audience, which last night contained some weapons grade arseholes who interjected, chatted, fidgeted, traipsed in and out to the loo and threatened to derail the night with a monumental display of bad manners, like the bottom set in English at a schools' performance. The net effect was to unite the rest of the crowd in supporting DJ Danny and Mr Walker as they frantically worked to create a controlled explosion of music and fun.
Technically very clever, creating a song to solve the problems of Declan and Liam on the back row, a rap and a peace anthem, among others, this show will clearly change nightly but looks like it will always leave you with a silly smile plastered on your face having achieved its mission to make you feel happier than when you went in
Julia Chamberlain

Comments
Older Comments
Show Dates
ADVERTISEMENTS
This comic also appears in: