The Congress of Oddities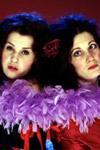 Show type: Edinburgh Fringe 2005
Roll up! Roll up! Hilarious ex-Siamese freak twins present diverting entertainment.
Comedians
Reviews
Original Review:
This distinctive Victoriana double act really ought to be introduced by a florid, alliterative Good Old Days-style barker pronouncing them the magnificent, multifaceted mistresses of merry-making, such is their dedication to recreating the days of the Empires – both British and Stoll Moss.
Margaret Cabourn-Smith and Zoe Gardner have a great sense of the atmosphere of these bygone times of freak shows, patriotic bunting and prostitute murder. It's a mix of the formal, the brutal and the politically incorrect that provides a fine backdrop for comedy.
The set-up is that they are former Siamese twins, remnants of the travelling circus catapulted into the modern world by some necromancy, to try to 'restore purity to the degenerate world of entertainment'. Where, they ask, is the next John Merrick?
Their quirky show essentially sees them performing a bizarre mix of music-hall skits, often quite badly: gasp as they impersonate minor members of Lloyd George's cabinet, shudder at the uncanny accuracy of their palm-reading and sway jauntily to their spirited rendition of AC/DC and The Smiths in 19th Century stylee.
Some in the audience, to their credit, throw themselves wholeheartedly into the conceit, oohing and aahing at all the theatrical shenanigans on stage, waving their Union Flags to the national anthem and hollering out whenever prompted. It all helps the great spirit of the show.
There's a lot of silly ideas at play here, but the result is not consistently funny – and sometimes the duo's drive to be baffling for the sake of it backfires.
For such a novelty act, an hour is too long, however much they try to vary the individual components. The thread they've used to try to add structure - a Biscuit-Eyed Woman found stumbling on the beach at Whitstable in an echo of the recent Piano Man news story – is essentially a one-joke turn given too big a role.
But there are also some sketches of great joy, the musical interludes especially, and a plethora of subtle touches to add depth to the illusion - the bungled mispronunciations of Calamine, the more dim-witted half of the double act, being a particular case in point.
At the moment, though, it's something of a triumph of unique style over patchy content. But style they most definitely have.
Comments
Show Dates