Robert Dubac's The Male Intellect: An Oxymoron?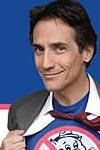 Show type: Edinburgh Fringe 2005
Robert Dubac plays a range of five politically incorrect characters from his past who, over a beer, offer a range of unsound advice. As he seamlessly transforms himself into these five alter egos, each offering their own brand of misguided advice. Bobby finally realises that most of their advice is worthless, but with a little help from his "feminine side" he sifts through the bad advice and discovers the secret of one of the world's oldest mysteries: What do women want?
Show Dates