Rain Pryor: Fried Chicken & Latkes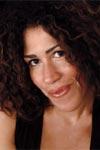 Show type: Edinburgh Fringe 2005
Imagine being born in 1969 to a white go-go dancer mother and Richard Pryor for a father. Pryor's daughter, Rain Pryor, tells us what it's like to be young, Jewish, black and the loving child of a troubled comic genius.
Comedians
Reviews
Original Review:
Rain Pryor has an early warning for anyone expecting to see a female version of her father: 'This ain't my daddy's stand-up.'
Too right it isn't, With a George W gag like 'I don't vote for anything that's named after the fuzz around my vagina,' it's clear her stand-up is barely in the league of the worst open spot, let alone one of it's greatest ever exponents. Depressingly, even that Bush gag gets a laugh.
But this is no stand-up show, and the audience understandably naïve about what is old hat. Instead it occupys instead that strange middle ground halfway to theatre known as the one-woman show.
It's basically a shop window for the talents she does possess: a series of well-drawn character sketches, a song or two and even a bit of dancing. In each she demonstrates skill and confidence; it's just that this feels more like a series of audition pieces than a bona fide show. For what other reason would you sing a Billie Holiday number apros pro of nothing?
'What's the big deal if I'm black and a Jew,' she belts out in a barnstorming show tune to open. And it's a good question, especially in Britain where there's not been the historical antagonism between the two groups to make a title like Fried Chicken and Latkes resonate. Plus, most of us don't actually know what a Latke is.
Rain, of course, did not have an upbringing that could be considered typical of either ethnic group, given thatmummy was a go-go dancer and daddy was an irresponsible, prostitute-chasing coke-head. But would we be interested in her background if he didn't also happen to be Richard Pryor? It's that which obviously put bums on seats.
Despite what she said at the start, Rain does perform a bit of Dad's stand-up – the routine about being pulled in by the police for shooting his own car – as one of her character pieces. And she's got the rhythm and the style down to pat.
Other people we meet are her paternal grandmother – a touch too close to pater Pryor's old man character – her aggressive, convinced-she-is-black mother and her vivacious High School chum.
Each are well crafted, there are some nice physical touches and Pryor is, undoubtedly a performer with a hugely charismatic presence. That, at least, seems to have been passed down in the genes.
But as a whole, this show feels bitty and unsatisfying, throwing far too little light on a remarkable man. Worse, for a comedy show, it's only very sporadically funny.
Comments
Show Dates