If My Life Hadn't Turned Out Differently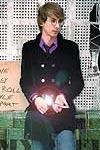 Show type: Edinburgh Fringe 2005
Nathan Penlington, one of Britain's new generation of stand-up poets, explores life's forgotten Kodak TM moments.
Comedians
Reviews
Original Review:
From his show's outset, Nathan Penlington is eager not to compromise the poetic root of his work. "Poetry is not the new rock'n'roll," he establishes, "poetry is poetry". This illuminating sentiment rings true throughout his entire hour, as he attempts to render performance poetry both consistently original and accessible to all.
Not only is this project achieved through joking observations on poetry's tedious image ("Why would you come again?" he jovially asks when it is revealed that all the audience have previously been to poetry readings), but also through the particular presentation of his own pieces.
The show – as its title might suggest – takes the audience on a Readers Digest journey into Penlington's adolescence, investigating how past incidents may have influenced how he exists today. It uses Penlington's own easy-going storytelling to keep the narrative flowing, combining it with poems that illustrate particular moments, each memorable for their own reasons.
The subject matter of these punctuating moments is more often trivial, describing things like childhood experiments with streetlights and torches, proving an ability to find important ideas in tiny places. It is this presentation of poetry in a frame of stand-up storytelling that makes the normally elite form far easier to engage with.
This is extremely fortunate as Penlington clearly has a talent for language and rhythm. His selection of words create delightful images captured from his own memories, whilst he injects a sense of vibrancy by constantly altering tone, pace and – occasionally – volume. A piece about a job monitoring trampolines at a fairground in his hometown of Rhyl, North Wales is particularly memorable for its capacity to create different spaces (each with their own events and noise level) within the same environment.
Although it is pleasurable to be in the company of Penlington and his poetry, the show does not often move beyond this into actually being funny. There is enough to effortlessly hold a smile throughout, but those seeking belly laughs should most definitely look elsewhere. Saying this, there are a few moments of comic inspiration (his descriptions of his hometown are laden with intelligent and witty observations), but mainly Penlington's poetry is concerned with the eloquent illumination of individual events and his storytelling with the pleasant journey between these moments.
The show's afternoon slot is perfect, perhaps allowing it to act as a primer for more raucous evening events. Either way, Penlington admirably succeeds in his perceived project of creating an interesting and accessible vehicle for his work.
Comments
Show Dates