Sabrina George - Postmodernism Comedy And Me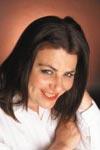 Show type: Edinburgh Fringe 2004
An ironic reinvention to amuse the market - hungry for comic icons.
Comedians
Reviews
Original Review:
At first, it seems like Sabrina George uses postmodernism like Alanis Morrisette uses irony.
Granted, postmodernism is a harder concept to nail down, but some light-hearted banter about an episode of a reality TV show she appeared in, a pair of shoes with a diamante strap that she brought in New York or how her South African parents coped with living in the Home Counties is pushing the definition a bit. But there is a loose theme of reinvention running under all of these tales, which just about qualifies them.
Audiences might have certain expectations when they see a show with a philosophical concept in the title; but this is no intellectual treatise, it's just natter.
The good news is that she proves adept at it, certainly in these conditions. How such a lightweight show might play in a more formal venue with a decent crowd is debatable, but it certainly suited the midweek audience of four-and-a-half (one woman unfairly dozing through the second half) in the cheap-and-cheerful environs of the Holyrood Tavern.
George knows her strengths, claiming to having written some clever jokes on postmodernism but discarding them because they didn't fit her stage manner, which she accurately describes as 'amiable and benign'.
So instead we have an entertaining diversion. Her opening tales of how she successfully posed as an early It Girl while living in the Hell's Kitchen district of Manhattan as a young woman are the best, the retelling of how she took part in BBC2's little-seen Sack Race the weakest.
Rather than relying on anything as reliable as a punchline, this is firmly in the 'having a chat with your mates in the pub' school of comedy. George graduates, perhaps surprisingly, with distinction.
Comments
Older Comments
Show Dates