Please Stop Trying To Kill Me, Dad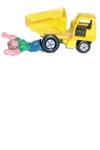 Show type: Edinburgh Fringe 2004
When Jason was six he nearly drowned in a moat at Arundel Castle, Sussex. It was his dad's idea to go. When he was nine he was run over by his dad in a dumper truck. At fourteen he cut his knee open during a paper round his dad made him get. When he was seventeen he went for a driving lesson and his dad used his twelve bore shotgun. Jason sometimes wishes he was adopted, but he isn't. So now he asks Please Stop Trying to Kill Me, Dad.
Comedians
Reviews
Original Review:
Jason 'Jake' Peck is the type of cheery chappy with appealing tragi-comic eyes and expressive face that would work well in a TV sketch show or sitcom.
His self-penned, one-man comedy show ­ billed as 60 minutes but coming in a tad short at 38 ­ appears to be written to exorcise the trauma of his father's death at age 62. With lots of light laughs, it is well-meaning, good-hearted and professionally written, but has an awkward dislocation of the timeline, so that Peck the writer can insert emotional peaks and troughs for Peck the performer. His father first dies 20 minutes into the show, then time darts backwards and forwards for no particular reason.
Jake gives the eulogy at his father's funeral and someone tells him how brave he is then asks if he does children's parties. I feel cruel writing this, but one understands why. Peck's visual and spoken delivery is over-emphatic for the naturalistic story, and the result is akin to a children's entertainer doing an acting exercise at a drama school. He brilliantly acts the part of being himself, but it feels like watching an actor, not a real person.
His father's advice to him was: "We're Pecks. We're nice people. Just be genuine."
But Peck says to us in this comic curate's egg: "I'm an actor. I can't be genuine. It's not in the job description I really want to cry, but don't."
Likeable performer. Pleasant and sustained laughs. Theraputic for him. A pleasant diversion for the audience. I doubt if that was the intention, though.
Comments
Show Dates