Hunting Diana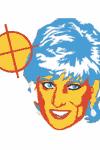 Show type: Edinburgh Fringe 2004
Princess Diana's dead, and Darby Burton heads MI6's investigation to find out whodunit. Alarmingly, he suspects his colleagues
Comedians
Reviews
Original Review:
There seems to be no limit in the market for conspiracy theories surrounding Princess Diana's death, Type Diana conspiracy into Google and you get 178.000 matches, with suggestions from the outlandish to the credible.
Establishing what happened in that Parisian tunnel seven years ago is an impossible task, which means Henry Naylor has his work cut out in trying to present his version of events as a plausible truth.
The play's programme hints at the hand of the shadowy world of the secret service. Diana was convinced she was being spied on, and though hardly the most mentally secure of women, evidence from the leaking of the Squidygate tapes to admissions by former spooks suggests she may have been right.
Were agents pursuing her that fateful August day, concealed in the pack of paparazzi? What of the Fiat Uno her Mercedes hit? The unusual route from the Ritz hotel to Dodi Fayed's apartment? The carbon monoxide in driver Henri Paul's blood? The delays in getting medical attention?
"We're trying to nail Fogg," says central character Darby Burton at one point ­ referring to another character but inadvertently revealing the difficulties in trying to pin down anything as hard fact in the clouds of speculation.
That is, essentially, Naylor's difficulties: he is chasing ghosts, and any conclusion he reaches can only add to the mist of confusion, not illuminate a path through it. And that's why Hunting Diana is ultimately unsatisfying.
But there's plenty of fun and intrigue on the enjoyable journey, with as many touches of wit as you might expect of a comedian's script and a tempo that's pacy, if bitty, with lots of short, sharp scenes
Comic Julia Morris plays Burton, a no-nonsense Australian agent working for the fictional MI9 agency who suspects corruption and wrongdoing among her colleagues, who she is convinced are leaking stories, tapes and photographs of the princess to the press.
The thread she picks at unravels all manner of jealousies, rivalries, cynicism and greed running through the department, as well as revealing the relationship fellow spies imagined they had with this concept called Diana.
Hunting Diana won't challenge any similar ideas the audience had of the princess, or of the circumstances surrounding her death. In that way, it's short of Naylor's thought-provoking offering from last year, Finding Bin Laden, But as a piece of slight entertainment, it does its job.
Comments
Older Comments
Show Dates