Donal Norton is Keyless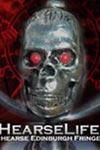 Show type: Edinburgh Fringe 2004
From the glory days of MTV, his music career freefalls to touring with David Hasselhoff and getting fired in the process, Donal Norton's life turns to comedy. True story.
Comedians
Reviews
Original Review:
It is almost impossible for me to know Donal Norton's potential, given that he played to an audience of just seven ­ even though I have seen acts play to smaller audiences effectively. The trick is to half-declaim as your stage persona, half-chat as yourself. Donal seemed to be totally himself, sitting on the edge of the stage to be close to us - yet he still used the microphone.
He is a very amiable 38-year-old Irish stand-up, a tad disappointed by audience figures; something no comic should mention unless they have a corker of a punchline. He had amusing anecdotes of being brought up in Navan and of sleeping in a hearse with a sound system in the back.
But the adventures were a bit too low-key, leisurely and higgledy-piggledy. Being a musician on tour with David Hasselhof and getting sacked has immense comic potential, but his delivery was more a series of low-key pub anecdotes than a fully-structured comic routine.
He told us the facts in an amiable and amusing way but needs to work on the build-ups so the effect is more than a silent smile.
To be honest, the world and the Fringe are full of slightly too laid-back Irish comics. Norton's untapped uniqueness is his musical ability. The show came alive in the last two minutes, when he sang and played the electric organ. The lyrics still needed some work to become laugh-out-loud funny, but both he and the act blossomed.
If he works on the structure of his anecdotes and integrates music throughout, the reaction might change from smiles to laughs. Or perhaps I am wrong. Perhaps with more than seven punters, Norton will storm it.
Comments
Older Comments
Show Dates