Doniert Macfarlane: Colin Montgomerie Stole My Life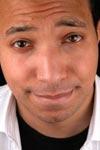 Show type: Edinburgh Fringe 2004
Stand up, character comedy and interactive video sketches in this fun-filled fantasmarama. Meet American pro golfer Hugh Jahss, Aussie Rules footballer Dunny Tyler, PC Iam Telling and many more
Comedians
Reviews
Original Review:
Macfarlane's debut show is both the best and worst example of an annoying trend of Fringe shows: video inserts. The impression that the performer has had to pre-record various bits of his act because he is both incapable of performing live to an audience and incapable of writing for the medium in which he is working.
Macfarlane is better than most because his videos are better made and, in one case, he successfully talked live to his pre-recorded alter ego. Not an original idea, but still well done.
However, a good 40 per cent of the show was made up of stand-alone video sketches not live performance. Most video sequences were of around four minutes, to cover costume changes which took around 15 seconds. There is no excuse for this. He might as well send videos to people at their homes and not even bother turning up for the live gig. To make matters even worse, the video screen was not totally visible to the whole audience in a very awkwardly shaped basement room.
Macfarlane is a perfectly amiable and competent observational comic, slightly surreal, slightly nervous on stage, but some of the material was literally from another century. Jokes about 3-2-1, Star Wars and Raiders of The Lost Ark are really not good enough in 2004. Some of the audience were not even born when 3-2-1 stopped transmitting.
The characters Macfarlane ran through - an Australian Rules footballer, a fat Northerner, a showbiz luvvie called Michael Hunt (the obvious gag never used) and a veteran golfer - are pleasant and well-observed, but will not set the world alight. And both times Macfarlane brought an audience member on stage, the routines he tried to involve them in were too complicated to work effectively.
Full marks for trying out different elements on his first Fringe show. Zero marks for relying on videos. Pleasant enough.
Comments
Older Comments
Show Dates