Take This and Shove It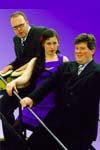 Show type: Edinburgh Fringe 2003
The people behind LWT's 'slightly filthy' team up once more for this hilarious sketch show.
Comedians
Reviews
Original Review:
A lot of effort has been put into this hour of sketches, and it shows. The numerous costumes are visually arresting, the performances exuberant and the scene changes slick. The only thing lacking is the material.
It's not that the ideas aren't strong. From Western perceptions of Native American names, to Poirot's pretentious waffling, each sketch contains a nugget of potential waiting to be realised.
But the writing isn't sharp or funny enough to unpack the humour within the themes, while many of the stronger gags are overstretched and floundering.
To their credit, the three actors do their best to breathe life into the script, unperturbed by the lukewarm audience reaction. However, until they find some stronger lines to deliver, the title of their show will remain a gift to critics everywhere.
Comments
Older Comments
Show Dates