Nick Revell: Bare Bones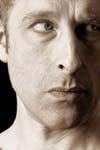 Show type: Edinburgh Fringe 2003
2003 heralds a welcome and overdue return to the Fringe for Nick Revell.
Comedians
Reviews
Original Review:
Nick Revell has been out of stand-up longer than most Fringe comics have been in it.
A respected headliner from the earlier years of the alternative scene, he quit live performance a decade ago, with an acclaimed radio series to his name, before he had any chance to get bigger.
Now he's starting back on circuit, and back in Edinburgh, with a low-key show in a tiny room, espousing his political comedy to a small but discerning audience.
He's not one of the hectoring type of politicos, though; Revell prefers to make his points with a carefully underplayed confidence. He is an animated, engaging raconteur offering a masterclass in delivery, with variety in pace, volume and rhythm that keeps an already attentive audience transfixed.
The material is intelligent and wide-ranging, featuring everything from teenage pub fights to French renaissance satirists.
Not everything is political, one of the best routines deconstructs the magic of the dawn chorus, but a social conscious is usually not far away. And the closing segment, about how his own liberal sensibilities conflict with both reality and his middle-class values is a classy piece indeed.
Yet too often the set is more clever than funny, with well-made points greeted by knowing smiles rather than raucous laughter. With a less forgiving timeslot, venue or audience, he would have more of a struggle on his hands.
But as things stand, this would serve well as a warm and witty aperitif to an evening of punchier, funnier comedy elsewhere in the festival city.
Comments
Show Dates