Live! At The Mausoleum: The Experts of Wrong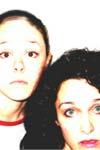 Show type: Edinburgh Fringe 2003
This show has not yet got a description.
Comedians
Reviews
Original Review:
This female double act have some wonderfully quirky ideas, a polished performance style and a cast of inventive characters - yet their show still fails to take off.
Their problem is that it's all just so sluggish. Sketches are overextended, the script tends to circle around the same point forever and the set-ups are invariably over-involved. In these MTV, Fast Show, times, audiences expect their laughs to come much quicker.
It's a real shame, as at their best, Giddings and Burdess demonstrate a keen Pythonesque eye for the absurd - but without the energy to pull it off, it all comes to nothing.
Highlights include the Cartman-like captor who taunts his kidnapped gimp with ridiculously ineffective tortures and a gruesome makeover TV show that leaves the glamorous host bruised and bleeding. These girls are obviously mental as anything - thank god they have comedy as an outlet.
Other creations are less successful, though, and when the initial joke of the ambitious social climbers or the bitchy 'date doctors' fails to take off, there's little to do but mark time patiently until the next idea comes along.
The performances are solid, they both have an obvious knack for broad caricature and an arsenal of exaggerated accents, and the double-act dynamic is in good working order.
The script can sparkle, too, if only occasionally. Their precocious eight-year-old performance poet, for example, spouts witty lines that could rival John Hegley's and a wry sense of the absurd is never far away.
With a strong director who knows the power of the cut, this imaginative pair could be a force to be reckoned with, but at the moment this is too self-indulgent, and the pace too tortured, to make the most of their undeniable talents.
Comments
Show Dates