David Crowe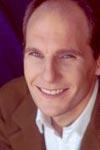 Show type: Edinburgh Fringe 2003
Do they come any funnier? Probably not. Topical subjects, historical events and personal experiences united by outrageous animation and hilarious intellect. The result? A totally original style of brain-boning jocularity. Seattle's finest comedian returns for six nights only.
Comedians
Reviews
Original Review:
This unassuming yet charismatic comedian commanded the stage from the moment he walked onto it.
Crowe isn't the conventional transatlantic 'inyaface' comic reliant on instant gratification, but instead draws on his Seattle upbringing to emphasise what it's like being a quirky person in an harsh world.
The Fringe seems to nurture a generation of technophile comic who rely on screens and props to bolster their show, but Crowe needed nothing other than himself and a microphone.
He occasionally dried up, awkwardly blaming the audience when things didn't quite go his way, but the packed-out venue was very forgiving, and proves a splendid space for a splendid comedian to ply his wares.
Quibbles aside, this ebullient, dry and observational comic was a gem of a discovery - shame he's only on for a week.
Comments
Show Dates
ADVERTISEMENTS
This comic also appears in: