Chinese Horoscope Compatibility Love Test Show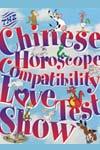 Show type: Edinburgh Fringe 2003
Bring your partner or come alone. Using the magic of Chinese horoscopes, Paul Watson advises whether you should leave that dragon or shack up with a dog. Fun for all the Chinese animal kingdom.
Comedians
Reviews
Original Review:
With this name, and being listed in the comedy section, you might be forgiven for thinking this is some Banzai-style spoof. But, in fact, it is a basic introduction to astrology, more light entertainment than comedy.
Host Paul Watson is the kind of charming rogue who could sell dead chickens to a vegetarian. Sidestepping any baffling talk of ascendants or natal influences, Watson concentrates on the Chinese and sun sign methods of determining personality, and thus compatibility.
"I am now going to tell you which of you are destined to be together, and which of you are fucked," he proclaims to the couples in the audience, several of whom look very scared.
However, Watson is tactful in his breakdown of the partners' suitability. He takes a simplistic approach, with the different signs seated in separate areas of the room so that the host can generalise as to their character traits and embarrass audience members by suggesting they should get together.
A less-than-scientific quiz is held to determine which group of signs is the most intelligent, before Watson invites questions from the audience, most of which are, predictably, about couples' compatibility.
"I wanna know, do me and my boyfriend have a good percentage rate?" one bossy woman demands. "Er it's about 50 per cent," Watson replies, his face intimating that the percentage is actually closer to three.
The "science" behind his judgements is never explained, but it's irrelevant: the real fun is to be had in watching audience members' reactions to his comments, so the success of each show largely depends on their participation.
On the night in question, the show was a fun and at times fascinating hour which sped by. However, sceptics may want to leave the Chinese Compatibility Test to those who secretly believe its predictions might come true.
Comments
Show Dates