John Hegley: The Sound Of Paint Drying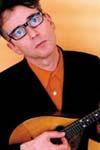 Show type: Edinburgh Fringe 2002
John Hegley visited France last year to paint a scene once depicted by his father, and muses upon his trip, painting generally, romance and blacmange. Contains rhyming language.
Comedians
Reviews
Original Review:
The Luton laureate is an undisputed national treasure, and back in Edinburgh with another assured show to prove it.
Ostensibly, this retraces Hegley's journey to France to recreate a street scene his father painted in 1931.
But it isn't exactly a tight travelogue, more than a vague concept on which to hook a loose collection of poems. For example, there seems to be almost as many verses obsessing over potatoes as there are about his Gallic adventure.
Of course, he brings every poem to life through his stylised renditions, often accompanying himself on the mandolin, dancing ridiculously and erratically, or rapping to a beat box rhythm. Oh yes, he's pretty fly for a white guy. As the ghettos of LA produced hip-hop, the terraces of Luton produced a wiry bloke with glasses - and they're not that far apart.
He even attempts an improvised poem, based around an artist suggested by the audience, supposedly to "make you appreciate the scripted stuff" but is actually pretty impressive.
As usual, every verse is a gem - from the quickfire rhymes (Slough with meow being a particularly inspired) to the more sensitive laments to a childhood sweetheart.
The show is all performed in front of a giant reproduction of his father's painting, which makes for a ridiculously stupid ending, as he pokes his head and arms into the scene for the closing number. It really is a picture of talent.
Comments
Older Comments
Show Dates