Small and Large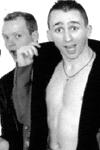 Show type: Edinburgh Fringe 2001
Following a rebuff by Little and Large's manager for his clients to appear in their Edinburgh show, Nathan Cassidy and Rick Smallwood embarked on a worldwide search for their men, taking them as far as Barcelona and South Africa. And Scarborough.
Comedians
Reviews
Original Review:
This show was all about a quest to find Seventies end-of-the-pier double act Little and Large.
But Rick Smallwood and Nathan Cassidy had a tall order on their hands as their audience was predominately young and not British, so didn't actually know who the hell Sid and Eddie were.
It's a risk you run when basing your show on such limiting material - you hit problems if your audience can't relate to it.

Cheesy characters broke up the embarrassingly awkward video clips, but they certainly were not developed enough to warrant any reaction.
The pair ploughed on and tried to muster some interest with a final video clip showing how they succeeded in their quest. Sorry to give away the ending, but by this time I don't think anybody cared.
Comments
Show Dates