Susan and Janice: Because We're Worth It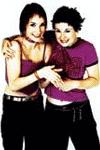 Show type: Edinburgh Fringe 2001
Comedy's two favourite girls return
Comedians
Reviews
Original Review:
While very few double acts ever make it big, there is always a glut of hopefuls Edinburgh time, where quality can be patchy, to say the least.
But with this show Susan and Janice prove themselves to be one of the best around, and surely one of those most likely to go onto greater things.
Reviews of sketch comedy seem forever determined to contain the phrase "a bit hit and miss", and this episodic effort is admittedly no exception.
But here the misses are relatively few, and the best hits achingly good.
Over-riding the whole show is a deeply ingrained sense of fun, and the pair's sparky personas and inherent silliness keep things bounding along nicely.
They easily mix sketches with the usual double-act banter, producing at least a couple of routines of pure brilliance along the way, and infuse it all with some neat running gags and fine, confident performances.
Admittedly, some of the ideas can be a little unimaginative, but they are pulled off so well that you can forget that, for example, you've seen comedy nuns a hundred times before.
Even a technical cock-up that deprived the show of the denouement that would have tied up its loose ends could not dampen the joyous spirit.
And although not trying to push into new territory, this talented pair still manage to be a refreshing blast through a somewhat tired genre.

Comments
Show Dates