Mom I'm Not A Lawyer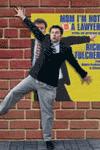 Show type: Edinburgh Fringe 2001
A confessional. A gigantic tale of deceit. Law graduate turned comedian, but his parents still think he's a lawyer. This is his true story.
Comedians
Reviews
Original Review:
What a fantastic true-life premise for a show - Rich Fulcher has never admitted to his parents that he became a comic after leaving law school.
Yet he never makes the most of the fantastic web of deceit he must have woven to keep up this pretence over the past seven years, and there never seems to be any real tension that his cover may be blown.
Deadpan Fulcher is a droll storyteller, entertaining enough to overcome the considerable handicap of his morosely monotone voice.
And the fact that his material is true does give an extra layer of interest. Because, let's face it, it would take a particular type of bore to make such exploits uninteresting.
But there's too much unnecessary autobiographical background, and too little really sharp material to capitalise on the strength of that unique set-up.
It's an absorbing and interesting tale, but just not funny enough to be a real find.
Comments
Show Dates