David Benson: To Be Frank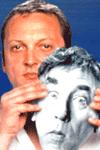 Show type: Edinburgh Fringe 2001
David Benson, acclaimed comedian and writer, best known for his portrayal of Kenneth Williams in 'Think No Evil Of Us' and his touching show on Diana, Princess of Wales, 'Mourning Glory', now turns his attention to Frankie Howerd in To Be Frank
Comedians
Reviews
Original Review:
From the title and publicity of this show, you might be thinking this is a show about Frankie Howerd.
But it's not, it's a show about David Benson - creator of the previous Fringe hit Think No Evil Of Us: My Life With Kenneth Williams - and, coincidentally, creator of this show, too.
For after a bit of enjoyable audience workshopping about the life of the predatory homosexual star of Up Pompeii, Benson draws the most tenuous of parallels with his own life, comparing the pits of Howerd's roller-coaster career with his own problems capitalising on the success of his earlier hit.
Howerd had been a huge variety star, but almost chucked it all in when his career took a dive, seriously considering running a pub instead. Benson, similarly, took a job as a recruitment consultant when offers of work dried up following his Kenneth Williams play.
So while Benson's dynamic performance always keeps things interesting, this is ultimately about very little, other than the ego of a relatively unknown actor, making it of limited value as a piece of theatre.
And although there are titters, it's not especially funny, either. Benson does a passable, at best, impersonation of Howerd and recreates a typically double entendre-laden routine as a finale, but it never really recreates the spirit of the bewigged genius.
What we are left with, then, is a showcase for Benson's talents - and they are not inconsiderable, as he is always able to keep a rapt audience in the palm of his hand.
It is utterly absorbing at the time, but soon afterwards it becomes apparent that there really wasn't actually that much to it.
We learnt little about Howerd, a little about Benson, but not much else besides. A diverting 90 minutes, though.
Comments
Older Comments
Show Dates