Bachman and Evans: Hmmm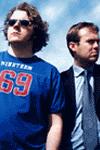 Show type: Edinburgh Fringe 2001
James and Mark are out of work, out of luck and out of ideas. God knows why they've decided to take a show to Edinburgh then.
Comedians
Reviews
Original Review:
This intelligent show is a well thought-out, engagingly performed and tightly written piece of cartoony entertainment.
James Bachman and Mark Evans have a great deal of fun demolishing theatre's fourth wall - but in a way that's never pretentious nor self-congratulatory. The duo constantly slip in and out of the pacy show to discuss their acting abilities or whisper asides to the audience. Witty captions, too, flash up to point out shortcomings.
It's simultaneously silly and clever, a well-crafted and polished piece of work that finds laughs in exaggerated behaviour without being gratuitously over-the-top.
Although the pair have written for just about every TV comedy in recent years, this is the first time they have performed together, yet they have the double-act dynamic down to a T, achieving the right mix of interdependence and suppressed irritation without relying on broad stereotypes.
The show fails slightly in that, despite the duo's best attempts, the viewer never feels emotionally involved, so laughs don't come as easily as the gags really deserve, although this could be down to the unfairly sparse audience numbers.
But this is a classy show, and one that could easily transfer to TV. I think we'll be seeing more of this talented duo.
Comments
Show Dates