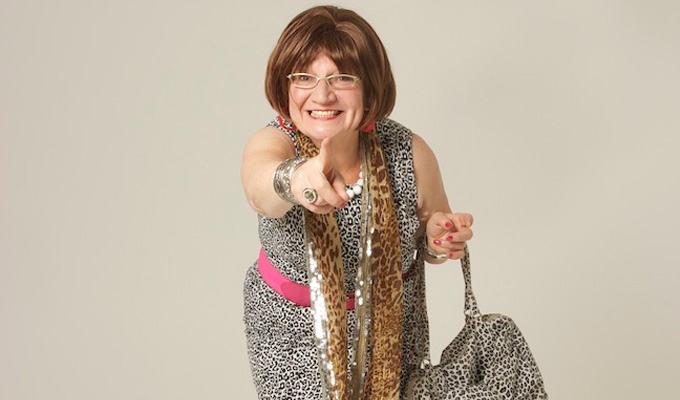 Barbara Nice
Barbara Nice's stage shows are a joyous celebration of 'seize the moment' fun, using her charms as an over-friendly Stockport housewife to coerce the audience into a community for various silly activities.
It's not the easiest mood to transfer to the more passive experience of a sitcom, but somehow Mrs Nice's creator, Janice Connolly, and her co-writer Steve Turner have done it – right down to the unlikely crowdsurf that's become her circuit trademark.
And as if that's not high-jinks enough, the mental image of a late-middle-aged woman recreating Marilyn Monroe's most iconic moment with a hairdryer and a dressing gown is one to savour.
The script of this first proper episode, following a pilot that was repeated on Radio 2 last night, works towards such landmark moments, but is also packed with an incredible number of gags en route. Very tightly edited, almost every exchange is a feedline-punchline joke – and while the theme of health concerns presents some open goals for gags, each one lands creatively.
Barbara ('as in Streisand') Nice ('as in biscuit') is supremely likeable character, full of enthusiasm as she embraces the opportunities retirement offers. She is one of the last generation able to stop working with a good 25 years of active life ahead of her, and is keen to seize the opportunity. Unlike her layabout husband Ken (John Henshaw,) who plots his entire life out around daytime TV schedules, even though he's not yet hit 60.
She thinks he's 'gone to seed' while proudly boasting of her active lifestyle – so it comes as a shock when she gets a minor health scare. That storyline raises, subtly, the prospect of mortality – though this is a show to laugh in the face of such topics, not treat them with any respect.
Connolly's comedy circuit background helps her bounce off the studio audience, adding to the verve of a live recording. There's even a brief vox pop in the episode, enabling Connolly to show off those well-honed crowdwork skills. (The breakout from the fiction is entirely in keeping with the way sitcoms, post-Mrs Brown, can now acknowledge their own artifice.)
Audience sitcoms are notoriously hard to get right, but this pacy, funny and feelgood hits all the right notes. TV commissioners ought to be taking notice.
Review date: 14 Mar 2017
Reviewed by: Steve Bennett
Recent Reviews
What do you think?