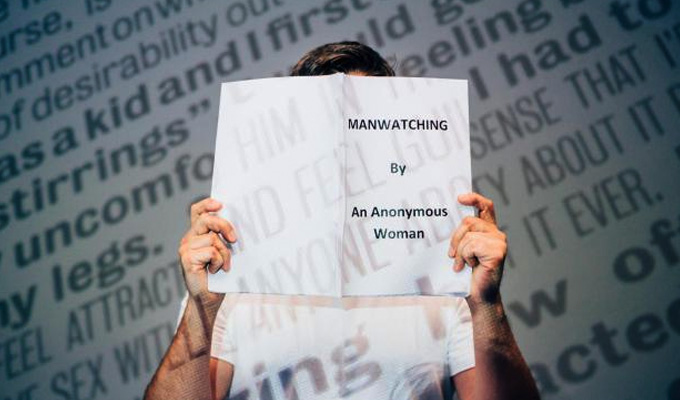 Which comedians are Manwatching?
The comedians taking part in the Edinburgh run of Manwatching have been announced.
Written by an anonymous female playwright, the piece reveals her sexual desires, and is read by a comic who has not seen the script before taking to the stage.
Those taking part in the Fringe run at Summerhall include Jason Byrne, Stuart Goldsmith, Tony Law, Andrew Maxwell and Mark Watson.
Manwatching was performed at London's Royal Court Theatre earlier this year – click here to read our review of Nick Frost doing the reading – and Seann Walsh will perform it at Latitude Festival on Friday.
The writer said: 'I had been thinking about what it means to be objectified, and whether or not that is really tied to desire or power.
'Although men are objectified by other men, I was at a loss to think of many examples of men being objectified by women, and the examples I could think of were quite complicated - frequently involving the man's profession rather than appearance (in Sex And The City, for example, men are usually referred to in shorthand by whatever job it is they do rather than how they look or act), or their dominance as the source of objectification.
'Even though many women desire men, the most basic elements of that desire seemed oddly unexplored.
'So I thought, who better to give the words of a woman desiring men to, than the voice of a man, as it's so much more comfortable and familiar for us to hear about desire through the male perspective?'
The Edinburgh line-up is:
Friday 4 August: Tony Law
Saturday 5 August: Andrew Maxwell
Sunday 6 August: Keith Farnan
Monday 7 August: Edward Aczel
Wednesday 9 August: Mitch Benn
Thursday 10 August: Pete Johansson
Friday 11 August: Stuart Goldsmith
Saturday 12 August: Jason Byrne
Sunday 20 August: Mark Watson
Monday 21 August: Darren Harriot
Wednesday 23 August: Dan Antopolski
Thursday 24 August: Markus Birdman
Friday 25 August: Eshaan Akbar
Saturday 26 August: Simon Munnery
Sunday 27 August: Andrew O'Neill
The show will be on at Paines Plough Roundabout @ Summerhall at 7.25pm.
Published: 11 Jul 2017
Recent Other News
What do you think?