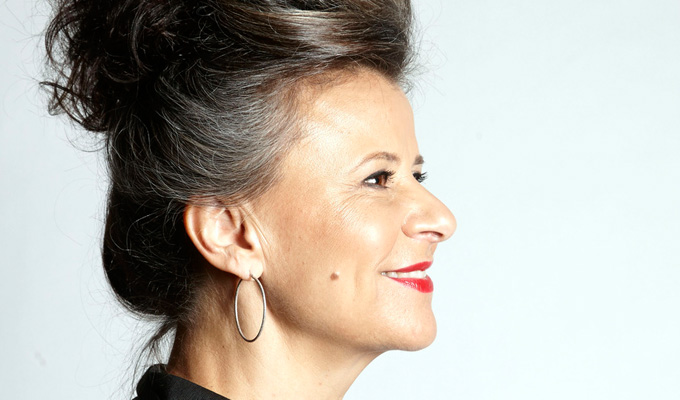 BBC orders Tracey Ullman satire shows
BBC One has commissioned three new episodes of Tracey Ullman's satirical show Tracey Breaks The News.
The three half-hour programmes follow a one-off special which aired in the aftermath of the election, with the new episodes filmed close to transmission to keep them topical.
Angela Merkel, Nicola Sturgeon and Theresa May will all return, with new characters s including French First Lady Brigitte Macron and Labour leader Jeremy Corbyn.
Ullman said: 'I am thrilled to be allowed to Break The News again with my fantastic team of writers and performers. It's wonderful that there is so much comedy to be found in the world's current terrifying doom spiral.
'These are uncertain times, but I have my money on Angela Merkel to win the German election - don't let me down Angela, you are like my Dot in EastEnders. Theresa May - hang in there, I'm not done with you yet, and Nicola Sturgeon - all power to your elbow hen, I promise my accent will be 10 per cent better this season.
'I can't wait to play new characters including the glamorous FLOF (First Lady of France) Brigitte Macron and a certain Labour leader, who we imagine has a marvellous sense of humour and will no doubt be delighted to see himself depicted by a middle-aged woman (please don't shave your beard off Jeremy, we've just had one made). Onward!'
BBC comedy chief Shane Allen says: 'The world has changed so quickly in the last year, so it makes sense that Tracey's show moves to a more reactive format to keep satirical pace with it all.
'Tracey's immense shape-shifting character talent means she brilliantly nails the many female world leaders alongside some of the blokes as well. She's the comedy equivalent of the New Year's Eve fireworks - she goes off in all directions and is always spectacular."
Chris Sussman, head of comedy for BBC Studios, which will be making the shows, says: 'With so many powerful women in world politics at the moment, it's lucky we've got a brilliantly powerful woman of our own to poke fun at them.'
Tracey Ullman returned to BBC One in 2016 with Tracey Ullman's Show, which has been nominated for outstanding variety sketch series at this year's Emmy Awards. She went on to make the one-off special Tracey Breaks The News which aired earlier this year.
The producer of Tracey Breaks The News is Caroline Norris and the Executive Producer is Gareth Edwards. The show is commissioned by Charlotte Moore, Director, BBC Content and Shane Allen, Controller, BBC Comedy Commissioning.
Published: 13 Sep 2017
Recent News
What do you think?