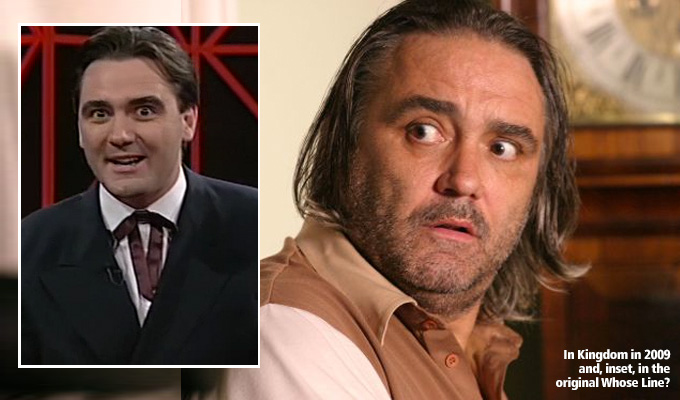 Tony Slattery to make a Fringe comeback
Tony Slattery is making a career comeback at the Edinburgh Fringe, joining the cast of Whose Line Is It Anyway? Chortle can reveal.
The self-described former 'recluse' – who won the inaugural Perrier Award in 1981 with a Cambridge Footlights group that also included Stephen Fry, Emma Thompson and Hugh Laurie – has made only a handful of benefit gig appearances at the Fringe over the last 33 years.
He will be appearing in seven shows of the revived Whose Line? live format, with host Clive Anderson and a rotating line-up of improvisers including Josie Lawrence, Colin Mochrie, Greg Proops, Mike McShane, Stephen Frost, Phill Jupitus and Richard Vranch.
It will be Slattery's first extended Edinburgh run since he and Vranch performed the show Aftertaste in 1984.
'I'd love for this to be treated as a comedy comeback, as opposed to comedy suicide' he told Chortle. 'In terms of whether people will come to see me, perhaps I can play the "oh Jesus, I thought he died years ago" card.'
Slattery, 57, 'leapt at the chance' of appearing after receiving a phone call 'out of the blue' from Whose Line? producer Brett Vincent.
The comic suffered a nervous breakdown shortly after Whose Line? ended on Channel 4 in 1995. Exacerbated by the death of his father and addictions to alcohol and cocaine, he spent six months not answering the door and was diagnosed with bipolar disorder.
Since then, he says he's been 'stuck in a rut' of being offered parts in hospital dramas. 'I'm always the person who's dying. And that's ok, it's work. But I feel typecast.'
Mentally, he maintains he's 'fine' now. He pulled out of a tour of the play Shadowlands last year because of poor physical health, having developed empyema requiring an emergency laparotomy. a surgical incision into the abdominal cavity. 'I had bits and pieces taken away about two years ago but I've got the all clear now' he says.
Proops once described Slattery as the 'sexiest and naughtiest' of the Whose Line? cast, 'whispering vile innuendo' in his ear when they were on camera.
Slattery 'can't remember that at all – I regard that as slanderous and libellous, I think all the innuendos were blurted out'.
But he admits to having 'such fond memories of its heyday, as I hope people do, I think they still watch it around the world. I occasionally get a repeat cheque for maybe £2.38 for perhaps ten years of it showing in Gambia. I don't know what kind of contract I signed at the beginning, it was a while ago.
'But what I liked about it was its pace. There was only one rule really, you had to be fast and you had to get a laugh.
'Just the idea of being back with Mike and Colin and Josie and whoever I do the shows with really fills me with excitement, I haven't seen them in a while. I don't think our friendship will have diminished, even though they've gone off and done other things and I've been a bit reclusive. Even if that makes me seem rather self-important. And also, I miss Edinburgh.'
Slattery first performed at the Fringe in 1979 with Fry and Rev star Simon McBurney, winning a Fringe First Award, two years before the Footlights show Cellar Tapes scooped the Perrier.
'It was such a joyous time working with Stephen, with whom I'm still in contact' Slattery says. 'Heaven knows what's happened to Emma Thompson and Hugh Laurie, where are they now, what have they done? And of course, the Perrier Award, it was a big thing. They get thousands of pounds for it today but do you know what the fuck we got? A case of Perrier!'
Slattery went on to have a prolific career on television, where he earned a reputation for ubiquity and willingness to take any job offered, inspiring a 'cruelly true' Private Eye cartoon that he still keeps framed, depicting him as 'the only actor whose answerphone simply says "yes, I'll do it".
He reflects that 'I wasn't born into money and was having fun, making hay while the sun shone. I became a bit more choosy later. But I still think of myself as a jack of all trades, master of none really, which is why I've jumped from thing to thing. And that's why, while I don't want to sound all gushy and actory, I am actually rather excited about this. I hope people might remember me and come and see what state I'm in.'
Admiring the 'speed and anarchy' of the panel shows that have flourished since his career hiatus, he would love to appear on one, even while acknowledging that 'it's probably a younger man's game'.
He sees his Whose Line? appearances as 'dipping my toe in the water, seeing whether it excites interest in anyone. Who knows? There are so many medical dramas, so many diseases, so many things I could die of on television.'
Slattery will be in Whose Line? from August 20 to the 27, except the 24th. Here he is in the Channel 4 show's heyday with McShane:
- by Jay Richardson
Published: 16 Jun 2017
Recent News
What do you think?