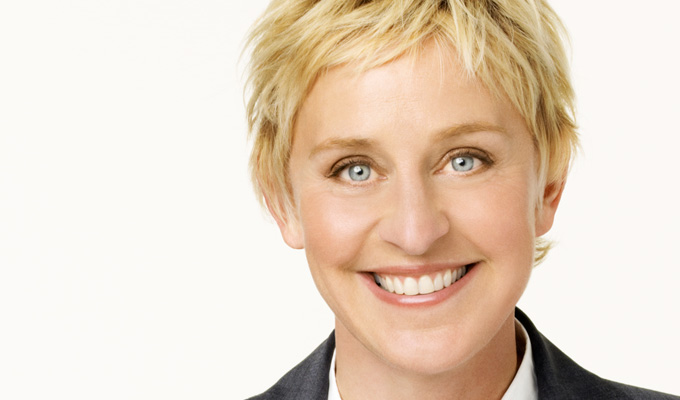 She did not spend time at the Nipple Convalescent Home
• Bill Oddie almost killed himself on the set of The Real Hotel of Marigold - after accidentally drinking turps. The ex-Goodie, 75, fell ill after hotel staff in the Indian coastal city of Kochi bought him the solvent to clean his paint brushes. He told the Daily Mirror: 'At the beginning of the evening one of the guys knocked on the door and put what I thought was a glass of water by my bed but it was turps and I was drinking it. It could have killed me.' Luckily he made a full recovery.
• An estate agent who sued Ellen DeGeneres for making fun of her name has had her case thrown out of court. Titi Pierce claimed she had been humiliated by a section on the comedian's talk show that joked about her first name – which she insists ISN'T pronounced 'titty' – being plastered on billboards in Georgia. In enjoyably dry legalese, federal judge Leslie J. Abrams added that: 'DeGeneres' statement… that Plaintiff might have spent time in the Nipple Convalescent Home, could not reasonably be interpreted as stating or implying that Plaintiff did, in fact, spend time as such a home.'
• The funeral of Allo Allo star Gorden Kaye is taking place at St Peter's Church in Huddersfield today. Pallbearers carried the coffin into the church to the stains of On Ilkley Moor Baht'at.
• Want to hear a dubstep version of the Seinfeld theme tune? The answer should probably be 'no'... but here's a track called Seinfeld Blaster by Wicked Wicked, which was featured on Jimmy Fallon's US talk show this week:

• Ricky Gervais attracts a better class of freeloader than most. Madonna, Paul McCartney and Princes William and Harry were all on the guest list of one of his stand-up shows, he reveals to Graham Norton on his BBC One chat show tonight. 'And, once you add a prince to the guest list you also get seven people with guns who have to get in for free,' he said. 'It's unbelievable!'
• Sarah Silverman has been mocked after tweeting about swastikas brazenly painted onto the street – only to be told they were markings for construction workers.
Walking to get coffee saw these all over a sidewalk in the town I'm in. Is this an attempt at swastikas? Do neo nazis not have google? pic.twitter.com/A4ses1G3ru

— Sarah Silverman (@SarahKSilverman) February 12, 2017
But she hit back after being teased and insulted for her mistake online:
It's a construction marker. Innocent mistake for a Jew that gets "burn in an oven!" at least weekly on twitter. Still pretty close though.. pic.twitter.com/8Gsuy3QkuE

— Sarah Silverman (@SarahKSilverman) February 13, 2017
Tweets of the week
Trump on Israel : "A part of me would like to see a two state of solution. But apartheid me would prefer to see a one state solution."

— Simon Evans (@TheSimonEvans) February 17, 2017
Beyond disappointed to find out La La Land isn't about an air traffic control operator with a stammer.

— John-Luke Roberts (@jlukeroberts) February 14, 2017
I can't believe I got sacked from the calendar factory. All I did was take a day off.#ukpunday pic.twitter.com/AHERBXbWZa

— Hacker T Dog (@CBBC_Hacker) February 13, 2017
Published: 17 Feb 2017
What do you think?