ADVERTISEMENTS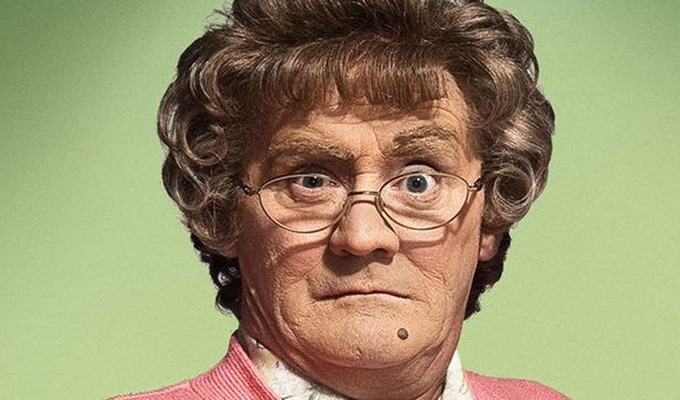 © Â BBC
Mrs Brown's Boys named best comedy
A tight five: September 10
MRS BROWN'S BOYS has been named best comedy show in the TV Choice Awards, as voted for by the viewing public. Miranda Hart was named best actress for her role as Chummy Browne in Call The Midwife.
JACK WHITEHALL has written a book with his father, the veteran showbiz agent Michael. Him & Me, which is out next month, promises an 'irreverent account of a unique relationship between a father and son' with each of them alternating the writing. The pair have previously co-hosted a chat show at the Edinburgh Fringe, which has been piloted for an E4 series. Click here to pre-order.
TIM MINCHIN's songs are going to be on the West End for a lot longer, as Matilda The Musical has extended its run at the Cambridge Theatre until December 2014. It has been playing in London since October 2011, and is currently booking on Broadway until June next year.
GQ magazine has appointed James Mullinger as its comedy editor. He has worked at the magazine for 14 years and is currently photographic director, but also 'moonlights' as a stand-up, and has edited GQ's last two comedy editions. Editor Dylan Jones said: 'James is very highly regarded on the comedy circuit, and this is a very well deserved promotion.' He will continue to work in the comedy issues, which appear in April, as well as overseeing the monthly jokes pages and retaining his job on the picture desk.
STAND-UP Mike Belgrave is to appear on a new BBC show – testing whether he can be crowned 'best children's entertainer'. He will attend a fake party, with an especially annoying 'Dad' and kids who are told they can go and play video games if they are bored in the show Best In Town, where he will be up against Captain Calamity and Foxy the Funky Magic Genie. The show has been made for distribution on commercial BBC Entertainment channels around the world: