Comic Details
A circuit stalwart, Stephen K Amos made his Edinburgh debut in 2001, returned in 2003, and has performed there every year since. He has also appeared the Melbourne Comedy Festival every year from 2006 to 2009.
Amos has also acted in a number of dramatic plays at the Fringe, including One Flew Over The Cuckoo's Nest with Christian Slater in 2004 - which later transferred to the West End – and Talk Radio in 2006.
On TV, he has performed stand-up on Live at the Apollo and the 2007 Royal Variety Performance and appeared on several panel shows, including Have I Got News For You, Mock The Week, The Wright Stuff and Loose Women, where, in February 2009, he caused a stir by revealing that Prince Harry told him he 'didn't sound like a black chap' after his appearance at a gig to celebrate Prince Charles's 60th birthday.
In 2007 Amos made an acclaimed Channel 4 documentary on homophobia in the black British community and in Jamaica, Batty Man. He is also in the cast of 2009 BBC Two sitcom In My Country, a multicultural show set in a run-down guest house.
In 2004, he won a Time Out award for comedy, and he has been nominated for the Chortle Award for best compere three times, in 2004, 2007 and 2008.
Stephen K Amos: The Spokesman
Live Review
Melbourne International Comedy Festival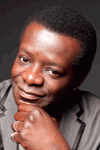 Stephen K Amos has discovered the secret of success. He's been coming for Melbourne for maybe eight years, storming it in increasingly large venues every time. And how does he get the big laughs? By mentioning another town, pulling what can only – if offensively – be described as a 'mong' face, and smashing himself in with the microphone as he demonstrates just how stupid and backwards those people from a different place are. The idiots.
It works for Adelaide; it works for Darwin; it works for individuals who he doesn't much like, too... so the technique gets quite a few run-outs, like it's his catchphrase. That or saying an incredulous 'fuck off!' And if the face-pulling is in dubious taste, wait until you hear the comedy Thai accent he later employs, and then has to seek the audience's reassurance that it's not 'a bit racist'. (It is)
As well as the old tricks, there are also a few older routines in here, too, not that it really seems to matter to the audience. Some actively encourage it in a kind-of encore when he jukeboxes his own back catalogue on request; while for others it will be new anyway. Amos took a straw poll and found the vast majority of people in the Atheneum Theatre had never seen one of his live performances before. But this is a new show, and we get to it eventually.
Among the fresher material is an anecdote about his phobia of water; how he hates the idea of swimming in the sea as there's no safety rail to hang on to. The analogy with his comedy is obvious.
Perhaps he needs a reliable prop; as for all his experience, and exemplary crowd work – warm and enthusiastic as he gently ribs those in his sights – he can occasionally misstep, as evidenced tonight with some off-colour gags about Rolf Harris that the audience bristled against. That's clearly not what they've come to expect from the effusively charming Amos.
But largely he delivers exactly what they want, as he very loosely explores the theme of this show: that he's no fit person to be a spokesman for any cause, or a role model for anyone. The content encompasses the faceless mouthpieces who make corporate apologies for cock-ups like the horsemeat-in-lasganes fiasco; some fairly obvious gags about Jesus, 'the original spokesman for God' (well, if we ignore the Old Testament) and then on to his own failings.
The thought process was sparked when Amos reluctantly found himself being asked to comment on all sorts of gay issues, since coming out in his 2006 Edinburgh show. It's not a subject he ever particularly dwells on, but as in all his anecdotes he reveals enough about himself to draw out the funny - no more or no less. Even his age remains a mystery when he claims to be 37, but no one believes him.
Indeed there are some very witty anecdotes here, especially his run-in with a stern woman in an off-licence (he can't bring himself to say the Australian equivalent 'bottle shop' without mocking it) – and, as always, his warm, gregarious manner elevates even the most everyday of routines, let alone the good ones. The phobias seam encourages the audience interaction with which he excels, as he addresses such weird fears as 'eggshells'.
It's an hour (well, more like 80 minutes) of charismatic bonhomie and affectionate mockery, with some great routines, but also a fair bit of padding. If it's not advancing the artform of comedy, well Amos was never a spokesman for that, but neither is it a constant peak of straightforward stand-up of which there's the ever-present hope he is capable of producing. But 'solid stuff, with moments of hilarity,' a spokesman for Chortle said.
Date of live review: Wednesday 3rd Apr, '13
Review by Steve Bennett
We Are Not Amused 2012
Thursday 29th Nov, '12- Royal Albert Hall
Ealing Comedy Festival 2011: Wednesday
Thursday 21st Jul, '11-
Amused Moose LaughOff 2010 Grand Final
Tuesday 24th Aug, '10-
Stephen K Amos at Latitude 2010
Sunday 25th Jul, '10-
School For Scandal - Fringe 2009
Thursday 27th Aug, '09-
Stephen K Amos: Find The Funny
Show - Edinburgh Fringe 2008 -
Britcom 2007
Show - Montreal 2007 - Wednesday 18th Jul, '07-
Stephen K Amos: More Of Me
Show - Edinburgh Fringe 2007 -
Stephen K Amos : Original Review
Saturday 1st May, '04-
One Flew Over The Cuckoo's Nest
Show - Edinburgh Fringe 2004 -
Stephen K Amos
Show - Edinburgh Fringe 2005 -
Comedy Store's 30th Anniversary Charity Gala
Show - Misc live shows -
Stephen K Amos: All Of Me
Show - Edinburgh Fringe 2006 -
Stephen K Amos & Guests: It Might Just Happen
Show - Edinburgh Fringe 2006 -
Stephen K Amos
Show - Edinburgh Fringe 2001 -
Talk Radio
Show - Edinburgh Fringe 2006 -
Stephen K Amos
Show - Edinburgh Fringe 2003 -
Stephen K Amos
Show - Edinburgh Fringe 2004 -
I just listened to the interview on Radio 4's loose ends. How disappointing to hear such ignorant rantings about Australians. Such pathetic generalisations to get a laugh. It is the height of rudeness after his successful tour here where he was embraced by the australian public and received very positive reviews for his performances. It would seem one can only expel racist remarks if you are the right colour. If some Australians are a tad brash at times... Perhaps it is a legacy of our British heritage Mr Amos? Double standards are repulsive.
symphonie, May 2009
He must be the most boring act ever seen. About 20 years out of date - grow up Stephen, the world has moved on, you should too.
Parp, April 2009
I saw Stephen recently in Croydon and he took the mick out of Croydon, as soon as he came on! He does impressions of us lot very well, innit!
Candy, April 2009
Saw Stephen last night in Aldershot with Seann Walsh, they were both excellent had the audience crying with laughter - brilliant 2 1/2 hours entertainment, continually engaging with the audience. Wonderful stuff.
Graham, February 2009
I thought I would let people know...he's a black man. You wouldn't know as he never fucking mentions it.
Jo D, February 2009
Think it's really disgusting the way this man has made a living through peddaing tired racial cliches. His inside perspective to his subject manner seems tenuous at best. . Amos' set in 9 words = "I'm black but I'm posh......WHAT'S THAT ALL ABOUT!?" Oh yer and - "Aren't the common white people racist?" It's the race equivalent of the sexism found on loose women, you shouldn't be able to say whatever you want just because of the colour of your skin. Offensive and not funny.
Simon, February 2009
Saw him with my family in Wolverhampton after watching him last year at Royal Variety. He was absolutely amazing. The funnies live comedian I've ever been to watch. He was constantly rinsing the audience! Ridiculously funny, always crossing the line and genuinely looked to be enjoying himself. He ordered the staff to get him a beer, and as a white member of the bar staff passed it to him up on the stage he said 'Oh how times have changed, there was a time when...' Legend.
Thomas Wynne, December 2008
Saw him last night in Wolverhampton and he was amazing. Both myself and my girlfriend loved his almost unplanned style. There were obvious scripted bits but alot of the best stuff is Stephen's interactions with his audience... I think he enjoyed it himself last night to be fair! Especially when the fire alarm went off! If you get a chance to see him then don't miss out. He deserves so much more credit than he's got. The tour is called "Find the Funny"... "Try and miss the funnies" would be more appropriate as its so good. Thanks for a cracking night Mr K Amos.
Keith, December 2008
Skip to page: 1 | 2 | 3 | 4 | 5 | 6 | 7 | 8
+
Where can I see Stephen K Amos next?
Where can I see Stephen K Amos next?
Stephen K Amos's RSS Feeds
Represented by:
Products
Stephen K Amos's Shows: