Comic Details
Rich Hall
Date Of Birth: 1954

Original Review:

Grumpily disillusioned American Rich Hall mixes an engaging spontaneity with desert-dry jokes about his homeland and its retarded leader, barking out pithy, politically-aware rants in his cantankerously gravel voice.

But he doesn't just offer Bush-bashing; he's got fine gags about John McCain and Sarah Palin, too. In fact, his jibes about the Republican candidate's decrepitude are so vicious, memorable and hilarious that the Obama campaign could co-opt them for a hugely effective attack ad.

Even his material that's not overtly political has a social insight, often about the lazy arrogance of Western consumers. Back that up with some pin-sharp jokes and relaxed quick-thinking audience banter, and you have an impressive act indeed.

Hall also appears in the personal of jailbird singer Otis Lee Crenshaw.
Date of review: Sep 2008

Rich Hall in Melbourne
Monday 8th Apr, '13- Melbourne International Comedy Festival
Rich Hall etc at Ealing Comedy Festival
Thursday 19th Jul, '12- Ealing Comedy Festival
Channel 4 Comedy Gala 2011
Wednesday 25th May, '11- O2 Arena
Rich Hall DVD recording
Sunday 27th Sep, '09- Hammersmith Apollo
Rich Hall's Campfire Stories- Fringe 2009
Monday 24th Aug, '09-
Rich Hall - Fringe 2009
Saturday 15th Aug, '09-

Rich Hall : Original Review
Monday 1st Sep, '08-
Otis Lee Crenshaw [2008]
Show - Edinburgh Fringe 2008 - Thursday 0th Aug, '08-
Latitude 2008
Show - Misc live shows -
Pimm's Summerfest
Show - Misc live shows -
Otis Lee Crenshaw: Bourbonitis
Show - Edinburgh Fringe 2004 -
Best Western
Show - Edinburgh Fringe 2007 -
Levelland by Rich Hall
Show - Edinburgh Fringe 2006 -
Rich Hall
Show - Edinburgh Fringe 2006 -
Pretzel Logic
Show - Edinburgh Fringe 2002 -
Rich Hall: Without Roy Chubby Brown
Show - Edinburgh Fringe 2003 -
Rich Hall at Eden Court Theatre Inverness, to what looked like a sell-out gig on a Thursday evening in March,is quite an achievement! He delivered a solid performance and bonded with his audience from the start in his verbose grouchy manner we have come to know him for. Especially when he touches on the subject of World politics and America in particular. Being in a unique position to experience and witness life on both sides of the Atlantic Ocean and observe the cultural differences and absurd views we have of each other and weave it it into his comedy material. The second half of his two hour set was his brand of comedy done in musical form, not the Otis T. Crenshaw persona unfortunately ! Maybe next time he's in Inverness? Audience loved this amiable American and he looked as if he enjoyed himself too!
Douglas Thomson, March 2012
A heroic show at Swindon battling a cold. I've been to a show every year for the last four and always leave with a huge grin on my face. Long may he continue!
Mel, November 2010
Saw Rich Hall last night at the Tobacco Factory in Bristol - he was so funny that I'm sure there are people with aching faces today! I've never laughed out loud so much - if you get a chance to see him, you really should go!
Sally, October 2010
Absolutely fantastic. Every time I see his work; perfect jokes, perfect delivery, just so funny!
James Quince, March 2010
Saw DVD recording. I think it did work at the Apollo. Brilliant night.
Con, September 2009
I really like this guy. I felt sorry for him though at the Greenwich Comedy festival. Poor compere, in a big linen tent and a silent disco outside that kept on yelling over his gags. He got off the stage as quickly as possible, wish I'd held on and waited until he appeared at a good venue like the Apollo. Comedy Genius
Justin, September 2009
The best Edinburgh show for a while - not that the others were bad just that this one didn't have the customary dip in the middle. Bit pricey, though
Andy Barr, August 2009
Just saw him tonight at Sydney opera house in the Studio. Made the best of a 1/3rd full room, coping with a guy who was violently sick in one side of the room to make things a bit more eventful. I only heard that he was playing 5 days before so he needed more publicity, but he was pure genius for an hour and a half, both as Rich and Otis. Very quick, and great sarcastic wit. Well worth it.
Mike, March 2009
Skip to page: 1 | 2 | 3 | 4 | 5
+
Where can I see Rich Hall next?
Where can I see Rich Hall next?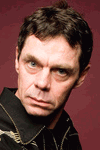 Rich Hall's RSS Feeds
Represented by
We do not currently hold contact details for Rich Hall's agent. If you are a comic or agent wanting your details to appear on Chortle,
click here
.
Products
Rich Hall's Shows: